SO MANY NEW THINGS!
New Dreamcatchers, Wire-wrapped jewelry, Sugar Skull Mugs, Stickers and Incense Burners, and more! Check us out! 
  Beautiful Spirit Boards, Hand-crafted 28" tall Skeksis (inspired by the movie 'Dark Crystal.' Wonderful and reasonable, NEW Fairies, S/P Shakers--Witch and Zombie pairs & Dragon S/P holder, NEW delicate and curvy Wands, new Holiday Cards, AWESOME Table Fairy, beautiful NEW Mystical Mugs and Travel Mugs and so much more--we have gifts for EVERYone!
  Great new 'Witchy' Greeting Cards just came in. More Gargoyles have arrived, New SUPER STRONG Incense, Cute little Baby Dragons.                                       Spooky statuary--Phrenology Head, Hand of Glory, Reflexology Feet, and Palm-Reading Hand.                     Beautiful Spheres are here in 'Moonglow' and 'Aurora Borealis' finishes--gorgeous!                                 Coming soon--NEW Wands, all woods, both curly and straight at reasonable prices. Wands stands, too!
  Hand-crafted Fairy Houses are now available. These unique collectibles are 14"--18" tall, completely hand made and One-of-a-Kind. 
NEW BROOMS are here & are wonderful--Knarly & knobby! Some of the best we've seen. Grab yours while you can. Each is a work of art & one-of-a-kind!
***************************** 
We are Excited to Introduced Gypsy-Style Clothing!
Crinkle Skirts, Patchwork Skirts, Magic Skirts and Voile Blouses are here! Also, Pa NVCtchwork Bags and Backpacks, Lovely Coin Purses, Monk Bags and Bucket Bags! Come in as soon as possible-they're going fast!
********************************************* 
Here now:
LOTS of New Fairies and Dragons, filling our shelves!
Giant chunks of Rose Quartz, Black or White Aventurine, Raw Onyx and Aquamarine are waiting for new homes/gardens. 
 We've just gotten in some beautiful new semi-precious pendants wrapped in various colored aluminum wire. They're light-as-a-feather to wear and starting at only $12.00, a good value.
Twelve new Tarot Decks came in this week--they are beautiful! Stop in & check them out! 
****************************************************************************************** 
Over 120 New Gems & Minerals are just in from our buying trip to Tucson, Az. They are gorgeous, amazing, stones you've never seen before or HUGE specimens of pieces you've seen in the shop. They will wow you like they wowed me!
We also brought back really large (8") smudge bundles, Abalone shells and some new jewelry. Come in quick!
       *****************************
Annette Blair's Latest Book, CLOAKED IN MALICE will be available on Saturday, July 7, 2012.
We now have ENCHANTED DRAGONS gracing our shelves. Adorable and magical, these dragons are handmade in MA. by a single mom, trying to make a living. Come see these beauties & maybe take one or two home.
Nearly Four Dozen Awesome Pewter Rings, sizes 6-11, have just arrived...only 19.95 each. New Sterling Silver Rings, Cuff Bracelets, and Pendants. Flying Wish Papers are new & amazing!
FROM THE TUCSON GEM SHOW, WE HAVE...
HUGE ROUGH GOLDSTONE PIECES, An Enormous Desert Rose Specimen, Amber Spheres, Amber Slabs containing Bugs & Scorpions, 'Crackle' Quartz Cathedrals, an 8" Quartz Crystal Sphere and so much more. Stop in and see the amazing pieces and maybe take some home.
Also new are our exclusive Wild-crafted Dreamcatchers. Large, striking and gorgeous, they may be just what's needed for a dramatic focus in your home.
**********************************************************
Within our newly HOLIDAY-decorated shop...
2012 Calendars & Datebooks!
New Jewelry (of course!)
New Holiday cards
Wands, handcrafted with clay and Gemstones..16-18" & from the same artist, using antelope horn. Unusual and striking, for the witch who has everything. $65.-$140.
Over 100 New Books & the 2012 Calendars & Datebooks are in! NEW Jewelry in Larimar, Merlinite, Rutilated Quartz & Labradorite--bright amazing quality.  
Pashminas/Altar Cloths in 7 colors! Only $12.95!
'Noctunal' Jewelry..Bracelets, Keychains, Ball chains, Pendants, priced from $2.50--$4.95!
Vampyre Travel Mugs & Vampyre Desktop Notes...delicious sayings in sexy packaging!
New Jewelry Nearly 50 new Pendants, Earrings & Rings in amazing new stones, such as Merlinite, Atlantisite, Eudilite, Super Seven! Fuschite, Labradorite, Lapis, Amber, Malachite and so much more. Beautiful stones, gorgeous settings.
Summer Jewelry Sale! Older styles, of Pendants & Earrings, marked down 30%, including Genuine Sandalwood Ganesh, Pearls, Azurite, Druzy Quartz, more!
Hexology by Dorothy Morrison Cash Flow, Hex, Witch's Protection, Witch Doctor (for health), A Charmed Life spell bottles have arrived, straight from the fertile mind of our friend, Dorothy. Reasonably priced. Voodoo Stick Pins can also be used to write intentions in candles, beautifully decorated by the 'Head Witch' herself.
Enchanted Sandcastles  4" tall to 9" tall, some with tiny flags ans flickering lights! Beautiful for remembering lazy days on the beach.
Handcrafted Brooms are here, wound with honeysuckle vines. We have the normal size, plus brooms on steroids! Come see these beautiful giants.
Wolf Statuary, one large (12" x12"), and a smaller one, complete with sword.
Body Butter, Hand Cream, and Body Wash in Chamomile/Lavender. a lovely light fragrance sure to please. We love it!
Lovely New Fairies have flown in & we have discounted their prices, thanks to a manufacturer's sale. Come in and see them! (Major sale during  May 7's Mother's Day Psychic Faire!)
Fairy Lights-Beautiful LED lights on dark branches make any dark corner glow.
Hanging Dragons, Angels, Pigs, Bats in many colors imported from Bali.
Huge Zodiac Cards painted by artist Josephine Wall are on sale for only 2.95!
NEW BOOKS!
NEW Haind-Painted Mirrors large and small.
Large Stone or Onyx Mortar & Pestles
New Book, Vampire Dragon, by Best-Selling Author, Annette Blair!
MORE THAN THIRTY NEW FAIRIES
have found their way to our shelves & are finding new homes. Claim yours before they're all gone.(From 2" tall to 24"!!!)
New Dragons, New Wolves and they are HUGE!

STEAMPUNK JEWELRY is selling quickly! Come in & check it out.
NEW NIGHT FAIRIES!
The SKEKSIS is here, inspired by Jim Henson's movie, THE DARK CRYSTAL.
NEW T-Shirts by Mountain are in for a great gift. Only $15.95. Great designs!
2011 CALENDARS, DATEBOOKS are here.
*****************************************
Do you like FOSSILS? Come in & check out our MUSEUM-QUALITY ORTHOCERAS, 9" Tall & weighs about 3 lbs. Or our 4" Marble/ Limestone Spheres, or the new 60mm Selenite Sphere. Amazing! Have you ever seen the fuzzy mineral,Okenite? We have 3 of these beautiful stones, boxed with description. These and more just found their way in & are waiting for new homes.
NIGHT FAIRIES are coming! A fabulous selection of 30 BRAND NEW FAIRIES will be here this week. If you collect fairies, do not miss this opportunity. Only one or two per style will be available. They should be on display by Weds, Oct. 20. Prices range from $11.95-$79.95.
JUST IN...BIG COBALT MUGS, adorned with pewter RAVENS, GREENMAN & PENTACLES. SPELL BOTTLES with Pewter labels, HOLOGRAPHIC FAIRIES, A LARGE, 'AGED' SKULL, UNICORN BOX, & COOL NEW DRAGON INCENSE BURNERS. Also, we got a new shipment of HUGE ROSE QUARTZ PIECES, said to bring love into your life. Palm-sized tumbled stones of fancy colored Jaspers, Obsidian, Sodalite, Tiger Iron & more.
We have SUPER SUCCESS OIL! Created on Mid-Summer from more than 75 ingredients, our exclusive oil was bottled during the Solar Eclipse on the New Moon. Each roll-top (1/3 oz.) bottle had was blessed, shaken and admired-they contain glitter! Lightly scented, $9.95 each. Update: We are getting fascinating testimonials concerning how well the Super Success Oil has worked for them. Come try it!
70 NEW STONE PENDANTS! Gorgeous pieces including Merlinite, Hemimorphite, Solar Quartz, Seraphinite, Malachite, Tangerine Quartz, Dendritc Agate, Onyx and more! Simple to fancy settings in all price ranges.
NOW HERE!...River Rock Cairns (piles of stones reminiscent of Buddist teachings.) Can be used indoors or outdoors in your dining room, meditation garden or on your deck. Rock Cairn Candle Holders; tabletop and wall sconces will be here soon. Very reasonably priced from $15.95.
We got a GREAT deal on New Books which we are now able to offer at 50% OFF the Retail Price. Stop in soon. Subjects include: Inspirational, Tarot, Animal Angels, Relationship help, Weight Reduction, Healing Herbs, Crafts & more!
Just in...Matching Mugs, Journals and Coasters in several wonderful Images-Fairy, Dragon & Wolf. These make great Birthday, Wedding or New Home Gifts.

Back again--handmade Journals for poetry, quotations, dreams, sketching. They are beautiful with intricate latches and leather closures.
Large Mirrors in Dragon, Fairy & Angel Motifs are just in!
Selenite Candle Holders are back. Selenite is wonderful for meditating and looks amazing when lit with a tealite. 
 We got new BROOMS! The tallest ever have just arrived from the Ozark Mountains. Claim yours today! New reasonably priced Sterling Silver Celtic knotwork jewelry has just come in. Four different beautiful Pegasus statues are now available.
Lots of New Books & New Tarot Decks have just come in! 
New 'Raw' Jewelry, wrapped in silver & gold have arrived.
Beautiful new rings and pendants are here!
 New Stones! We have amazingly smooth palm-sized Black Agate. Pick one up--they make everyone smile! A new shipment of boulder-sized Rose Quartz just came in as well as 3 inch Jaspers, Sodalite, Moss Agate and more. Crystal clusters and Fossils..Trilobite & Ammonite.
A 26" Mermaid and her friends just swam into the shop. They are gorgeous . . Also, a 26" Fairy flew in to delight us. Beautiful! We have a new Fairy riding a Dragon. What a fantastic combination. More treasures are coming in daily.
NEW DRAGONS! NEW FAIRIES! NEW STONES! NEW STUFF!!!!!

Fabulous Handmade Leather Journals! They look like they just came out of Indiana Jones' backpack. Unlined with thick handmade paper, they make great sketchbooks or dream books. Use them to make notes for your next novel or fill them with famous quotations or your own poetry.
We've just received lots of NEW SEMI-PRECIOUS JEWELRY, in Onyx, PINK Rainbow Moonstone, Abalone, Amethyst Slabs, BLUE Labradorite (fabulous!), Mystic Quartz, Shiva's Eye, Snowflake Obsidian, Turquoise & much more in rings, bracelets and pendants! Come in and check it out.
We've gotten some new Greenman statuary  and pendants in & they're wonderful.
Lots of new books are here - most of Dororthy Morrison's books and even Raven Grimassi's new "CAULDRON OF MEMORIES," now signed by the author.
New Pendulums, New Jewelry, New Spell kits!
An amazing selection of Hand-Turned Wands, made of seven different woods, are HERE with the amazing price of only $19.95! Specially made Pouches will be available, separately, for only $3.95 each.
We have some other new fairies (ONE IS MALE!) and some gorgeous new DRAGONS. We have a new collection of DREAMCATCHERS, priced between $12.-$44.
Velvet Goddess Scarves have just come in.  Wonderful for cool spring evenings, they come in purple, dusty rose, and lavendar. Also, we have Faerie Wishes, Goddess Wishes & Goddess Wisdom coins..magickal pewter tokens to carry in your pocket for inspiration.
Our own line of incense! Diane's artwork, packaged under the name "Magickal Blends," has arrived and we are so excited! You will not be able to get this anywhere else. Heady, magickal scents, these wands will burn for ONE HOUR, as opposed to the usual 15-20 mins. ($2.75 pkg/10.)
We have hand-crafted indoor FAIRY HOUSES for sale (some with acreage!) Come in and see these adorable little fairy worlds, each supplied with a card relating its attributes as if being sold by a Fairy Real Estate Agent. Great engagement, wedding or hostess gift. Or to bring a little magick into your own life! Priced from just $7.00 to $28.95. 
The "ENCYCLOPEDIA OF SPIRITS" by Judika Illes has just arrived & it is HUGE! Judika has been researching this book for years! Get yours while you can. We also have another of Judika's books, "PURE MAGICK." We are in negotiations to bring Judika to the shop for a huge booksigning. Keep watching for updates!
Diane's new Coloring Book, "The Magickal Fairy Book of Coloring Therapy" has just arrived and is selling well! Many line drawings of Diane's watercolor paintings have been utilized in this latest book and should provide many hours of quiet fun for both children & adults. Only 50 were printed. Get yours while you can. $12.95.
We just got ANNETTE BLAIR'S two new books in:
"Never Been Witched" & "A Veiled Deception." She's been 
in & signed these and other books she's written.
(See the BOOKSIGNING page for more info.)
Hand-Wrapped Dark Chocolate Hearts (6) in a Black Organdy Pouch. These were freshly made by a 'Witchy' Chocolatier in Martha's Vineyard and come with a Love Spell attached. 
AMY BROWN'S LATEST STATUE, "The Wild Companions," has arrived, is very reasonably priced at only $59.95. This statue features a blue fairy riding a wild-looking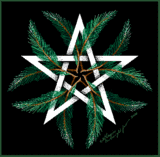 wolf through a a very lush field.
 David Delamare  sent us some of his new artwork, along with new cards! Stop in & check out these beautiful prints including "Mermaid & Child," "Fairy Mother & Child," "Gentiana" and, most popular, "Fairy Moon."
                                                We are now the area's official purveyor of.......
 ALIVAN'S FINE WANDS and everything HARRY POTTER!
We have Hogwart's House pins, Official Scarves and the Official 'Leaky Cauldron' Sign. We'll also have amazing wands, priced from 12.95-49.95, in many types of wood, such as Cherry, Rowan, Oak, Beech, Maple & Willow, beautifully boxed complete with an 
Alivan's Certificate of Authenticity. We even have small, highly crafted 7" Blk. Walnut wands for young wizards! 
We can special-order OFFICIAL HOGWARTS ROBES!
Marble Stones with inspirational words such as: Balance, Trust, Love, Play, etc. are here & at only 2.00, you can get one (or two!) for everybody. Also, "Break Your Own Geodes" are back! Remember these? Only $2. each.
GREAT GIFTS for KIDS! Like these kits: Little Box of Fairy Magic, Secrets of a Master Magician, Secrets of a Dragon, & The Wandmaker's Guidebook. Also, our new books, How to Raise & Train a Dragon, & Drawing & Painting of Fairyland are sure to please. Shop early as supplies are limited.
Beautiful Braided Copper Bracelets, only 7.95 & Magnetic Copper Bangle Bracelets, only 9.95!!!
Wonderful New Fairy Ornaments riding on blue or pink globes. Exceptional detail on these beauties make them fantastic holiday gifts! $18.95 & $19.95 each.
  
Glittery pink, purple & blue DRAGONS have just arrived. They are FABULOUS & just $14.95 + up.
  
LIGHTED FAIRIES are here! They are both sweet & seductive, and at $23.95, the perfect price for your favorite fairy lover.
Tiny Book/Kits, which feature amazing subjects like: Build Your Own Stonehenge,  A Lump of Coal (for you?), Harry Potter's "Time Turner," Palm Reading Instruction Book, Harry Potter's Sorting Hat, & 20 more priced from 5.95-8.95.
If you're on our mailing list, watch for our latest mailing which should be showing up around Saturday, Nov. 22. It will be chock full of sales, specials & 
descriptions of our brand new products. If you're not on the mailing list, all information will be included on this website in "THIS WEEKEND'S EVENTS" page.
A HUGE FAIRY (22 inches tall!) just flew into our shop, looking for a home. She is gorgeous. Come see her & fall in love.
We just got in the "TALKING BOARD," similiar to a Ouija Board, with a Wiccan slant. (TEMPORARILY SOLD OUT)
MAGICKAL INCENSE BURNERS with Cat, Mouse and Witch hat. MAGICKAL SNOWY OWL BOXES (very Harry Potter!) 
BLACK PEGASUS & WHITE UNICORN STATUES, COLORFUL BLANK SPELL BOOKS, Alabaster White Fairies & much more.
NEW EARRINGS! We just got a great selection from a new company called LUNASEA TREASURES. Pretty, fresh genuine stone earrings, in a large assortment of colors.
MORE BEADS! They're HERE! Wonderful Jades, Obsidians, Marble, Amethyst & more! Beaders, come on in.
NEW INCENSE from Montana with scents like Copal, Sandalwood, Blueberry, Amber, Cedar & Gaia. At only $2.95 per package, well worth the price. Try some today!
BUBBLE FAIRIES! are just in. Six styles and only $19.95 each. At the same time, we got two new types of BUBBLE DRAGONS! Very elegant, fierce and also only $19.95. These will make terrific gifts for the holidays. Pick up several for future gifts.
 WITCHES CALENDARS, ALMANACS & DATEBOOKS are here! Pick up your copy soon as they always sell out.
NEW PEWTER ZODIAC PENDANTS on leather cord are in, and at only $6.00, you can give these to everyone on your list!
AMY BROWN CALENDARS are in!!!   We have also received Jessica Galbreth's & Nene Thomas' calendars. Get yours today!
EXCLUSIVE !! NEW Mugs, T-Shirts and Keychains with our College of Metaphysical Studies Crest on them! Beautiful & Great for Back-To-School!
We also have a HUGE Shiva Lingam!!! It's the size of a football!                    (Average size 1"-3.") Come feel the energy!
Gorgeous Fairy Windchimes are here. Eight styles all only $19.95.
                                      *****************************
Dorothy Morrison dropped in last month and signed her books! You can still pick up a copy (SIGNED) by the Head Witch, herself! 
                                      *****************************
We still have a few copies of Annette Blair's witchy books, also SIGNED by the author! Stop in today & get your copy.
                                      *****************************
TREE-FREE Cards & GIFT BAGS are here. New designs and GREETED cards, 
 as well as our popular ALL OCCASION are
here! Now, you can find "OUR" cards for Birthday, Congratuatory, Sympathy, Miss You and much more. In addition, we have added GIFT BAGS, which are already a big hit with our customers.
The small size is suitable for mugs, books, a tarot deck, soaps & bath products, or a crystal ball. It includes the beautifully decorated bag, coordinating tissue, and a matching card, all for only $2.95!

The larger size can hold a fairy, dragon or gargoyle, a couple of
t-shirts, the perfect cauldron or over-sized books. It also comes with matching tissue & card. Perfect and easy, only $3.95!
 Our Journals, Mugs, Art Tiles,
and Coaster in Diane's Watercolor Artwork are now available in many of the most popular images. Pair up a mug with its Coaster for a great gift. Add a matching 
Autographed Card & you're good!